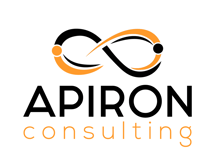 Your access to and use of the Service is conditioned on your acceptance of and compliance with these Terms. These Terms apply to all visitors, users and others who access or use the Service. By accessing or using the Service you agree to be bound by these Terms. If you disagree with any part of the terms then you may not access the Service.
INTELLECTUAL PROPERTY
All content included on this site, such as text, graphics, logos, button icons, images, audio clips, digital downloads, data compilations, and software, is the exclusive property of the Service or its content suppliers and protected by international copyright laws. Apiron Consulting grants you a limited license to access and make personal use of this site and not to download (other than page caching) or modify it, or any portion of it, except with express written consent of Apiron Consulting. This license does not include any resale or commercial use of this site or its contents.
LINKS TO OTHER WEB SITES
Our Service may contain links to third-party web sites or services that are not owned or controlled by Apiron Consulting. Apiron Consulting has no control over, and assumes no responsibility for, the content, privacy policies, or practices of any third party web sites or services. You further acknowledge and agree that Apiron Consulting shall not be responsible or liable, directly or indirectly, for any damage or loss caused or alleged to be caused by or in connection with use of or reliance on any such content, goods or services available on or through any such web sites or services.
SITE POLICIES AND CHANGES
We reserve the right to make changes to our site, policies, and these Terms and Conditions at any time.